My husband Stefan is super picky and have an insatiable appetite for  pizza – so it's been pretty difficult to find something he really likes. The bread is too thick, too soggy, combination of ingredients are not what I like, and the list goes on.
Being a do-er and getting back into baking, I made a point to make him pizza from scratch! #success
There are a million recipes on how to make your pizza, but here is mine absorbed from what's out there that will take you 20-25 mins to make in total. #sharingiscaring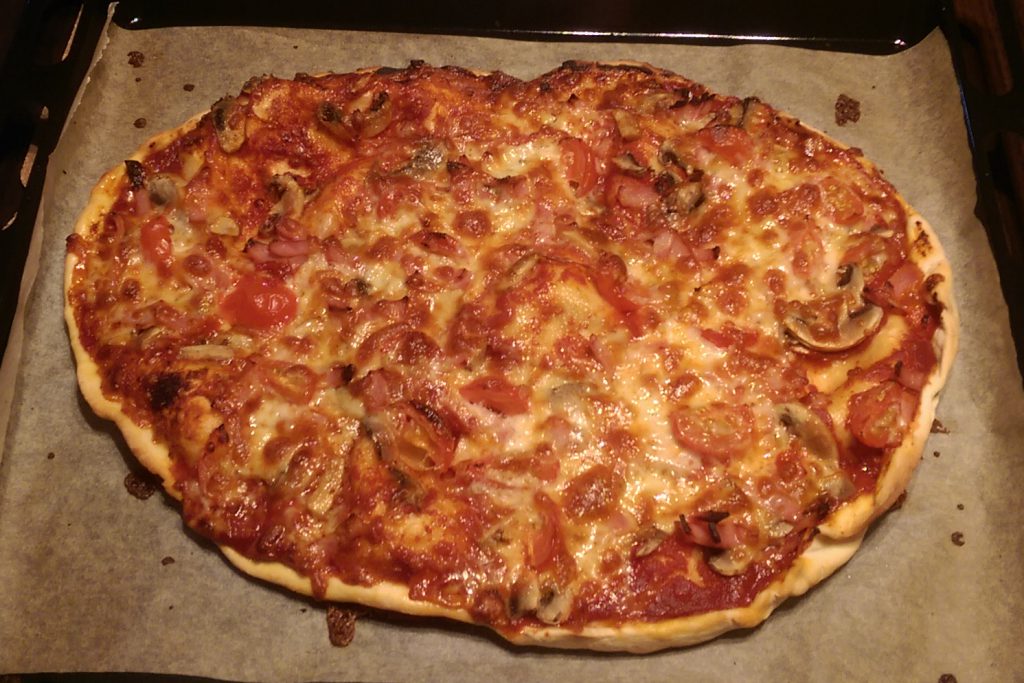 The dough
1. Put the flour into a large bowl, then stir in the yeast and salt well.
2. Make a well in the middle, and pour in 100ml luke warm water (to activate the yeast) and olive oil. Bring it together until you have a soft moist dough.
3. Place the dough on a clean, lightly floured surface and knead for 3-5 mins until smooth. Cover with a kitchen towel and set aside for at least 20 mins to let it rise properly (not needed if you want to make thin crust).
#cookingtips : you can keep this in the freezer and use it anytime!
Prepare the dough
1. Heat oven to 220-240C at least 10 minutes in advance.
2. Roll out the dough on a floured surface into whatever shape that fits your oven (mine was a rectangle of sort). The dough needs to be very thin as it will rise in the oven.
3. Place the rolled dough on a sheet of baking paper and place it in the oven.
#cookingtips: Place the rolled dough in the oven for 2-3 minutes before adding the toppings. This will avoid soggy wet dough when you add the sauce, unless you like that style!
Magic time : Toppings!
1. Smooth tomato paste over the pizza. Shake some mixed herbs on the paste. Drizzle some olive oil on top.
2. Scatter with mushrooms, ham, tomatoes, and cheese (in that order) as evenly as you possibly can.
3. Bake for 8-10 mins until crisp.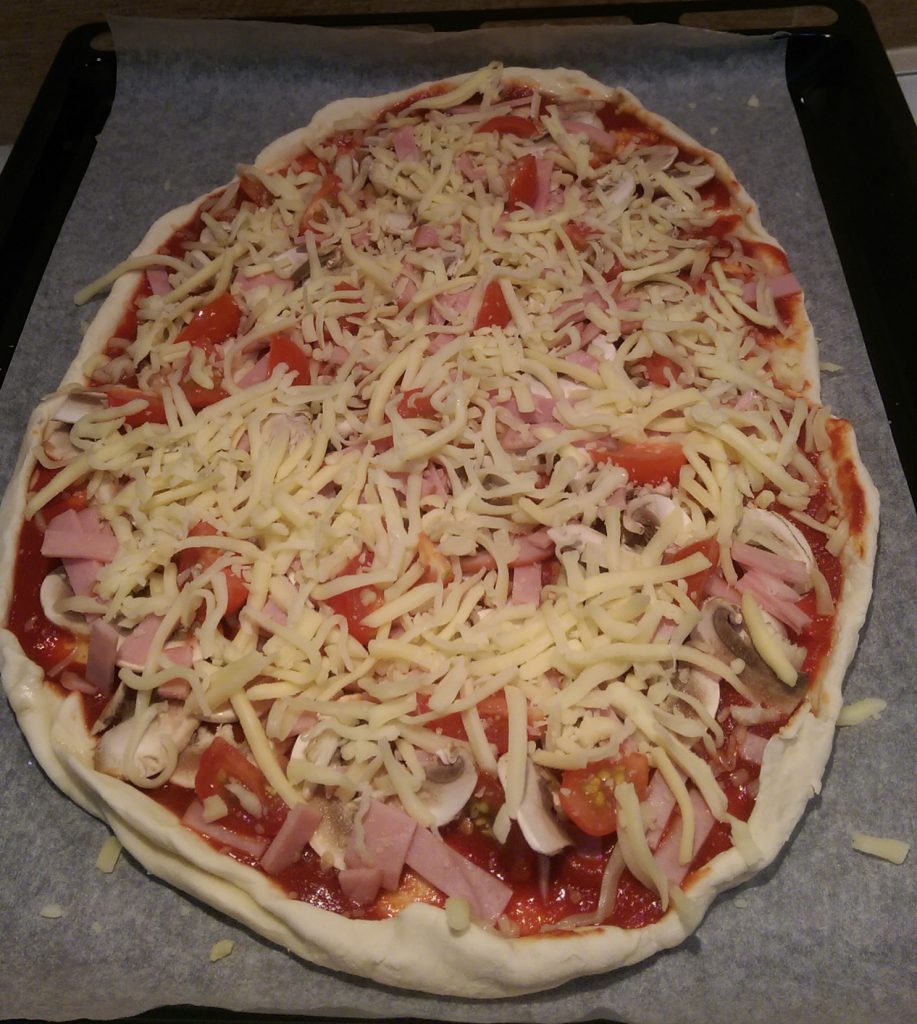 INGREDIENTS : This recipe is for 1 pizza, good for 2-3 people
Dough
150g flour (depends if you want it chewy-normal flour, or crispy-bread flour)
1/2 tsp instant yeast
1/2 tsp salt
1/2 tsp olive oil
Toppings (Be creative : go for whatever you want! )
5-8 white button mushrooms
4-5 slices of ham
150g tomato paste
5-7 Cherry tomatoes
Cheeses for pizza : mozarella, parmesan and mixed (as much as you want!)
Mixed herbs, or whichever you prefer
Olive oil
Happy Pizza-ing!
Love,
MiniChefAlyvds