Well for the love of eating, it's fairly natural that I equally love cooking and sometimes healthy food to balance the sin out. I'm sharing my love for seafood, as well as 'compulsory' vegetables into my diet.
Note : I don't really have set measurement of things, because I don't want to be restricted by taste. Go as you pleased with the salt, pepper, thickness and consistency of your choice!
Prepare your favorite vegetables, in my case – the below ( tomatoes, carrots, paprika, celery, and coriander ).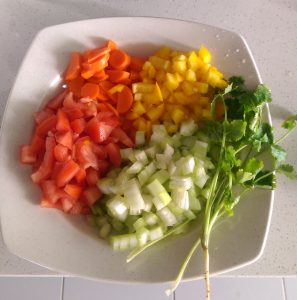 *Coriander is for garnishing, and I love the flavor a lot – but you may ignore it if you ain't a fan.
2. Firstly, put a tiny spoon of olive oil on heated pan – and sauteed all the vegetables until soft (about 5-10 mins, depends if you like it crunchy or soft). Add salt (or garlic salt) for taste, and set aside.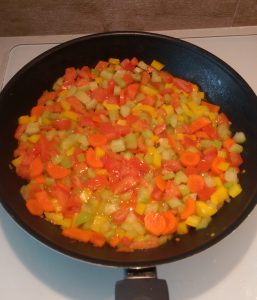 3. Boil 1 litre of water, and add a cube of chicken/ beef stock, or any base you like (ideally make from scratch, so you know whats in it!). Stir well, and leave on low fire.
4. Add in the sauteed vegetables, as well as any meat ( I used ready peeled crab meat to give it a rich seafood taste, but you can use chicken or shrimp, anything at all!) and cook it on low fire for 20 – 30 minutes.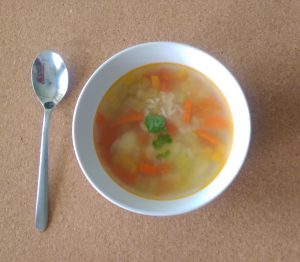 Serve it in a big bowl with your choice of garnishing!
Love,
MiniChefAlyvds